Christian Marclay's The Clock (2010) is an ambitious 24-hour montage stitched together from feature films and TV shows. Each clip, ranging from a split second to a few minutes, takes place during the time of the day at which it plays. Over the next few months, I will attempt to see all twenty-four hours at the Tate Modern in London, documenting the experience in a way as haphazard as the fractured experience of watching the work itself.
Voyage au bout de la nuit
Part 6 of 6 of this series. I wrote this article after viewing 18:39–21:55 (3 hours, 16 minutes) on 11 January 2019. Seen: 18 hours 29 minutes. I will be unable to see the remaining 5 hours and 31 minutes.
Read Part 1: Introduction, in which I discuss my initial excitement about the return of The Clock.
Read Part 2: Matineé, in which I reflect on familiarity, recognition, tension, time's passage, simultaneity, and death.
Read Part 3: Graveyard Shift, in which I stay up all night and misidentify noir.
Read Part 4: Interstice, in which I ponder the expectations set by Hollywood continuity style.
Read Part 5: Sunrise, in which I link up The Clock's morning montages.
---
It has been nearly a month since I've written on The Clock, mostly because I've been drafting a novel. Since last I wrote, The Clock itself has left London and found a new home at a museum in Melbourne,
The experience of seeing The Clock, even after all these hours, remains surreal, as perhaps the best cinema always is. The final night that I went, there weren't such recognisable features as there were in the morning hours, and I found its impressions less distinctive, the sequences more obscure. But maybe that was just my own fading vigour.

As I wrote above, my final tally, for now at least, will remain at the 18.5 hour mark. I think this is a respectable amount of conceptual art to have seen over a few months, though I'm still in awe of Ari Haque who did all 24 hours in one go.
I went on the evening of 11th January. There was quite a queue once again; it had been longer each time I attended, presumably due to the word-of-mouth spread of how brilliant it is. My partner and I arrived at 6pm, but didn't make it inside until 18:39. It was nearly full, though the right aisle was clear, so we sat on the floor, at the front right. Ten minutes later we got front row seats when a couple left their posts.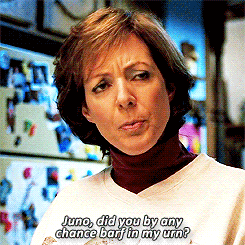 At 18:41, Allison Janney asks matter-of-factly: "Juno, did you by any chance barf in my urn?" The mixture of familiar and unfamiliar scenes remains as uncanny as ever. Two minutes later, Ingrid Bergman flips through keys labelled "Unica" in Notorious (1946). A moment later, in The Matrix, Morpheus tells Neo, "What was said was for you, and for you alone."
At 18:44, a film that I've never finished but have been meaning to for years, John Cassavetes' Opening Night (1977), with Ben Gazzara in a tuxedo. Cassavetes' films are good beyond all reason, at least the ones I've seen: Faces (1959), Shadows (1968), the devastating A Woman Under the Influence (1974), and the chilling The Killing of a Chinese Bookie (1976, also with Ben Gazzara). I might make him my vote for most underrated American director, and yet I've hardly scratched the surface of the BFI's advice on where to start with him. "Life imitates art," Wilde wrote, "more than art imitates life," and maybe I'm imitating The Clock, by trying to watch the films within it. But does that make art descriptive or prescriptive? The sheer quantity of great films in The Clock can make it seem like a commentary on the vastness of canon, can make one feel, at times, a sense of aspiration, and at others, of desperation.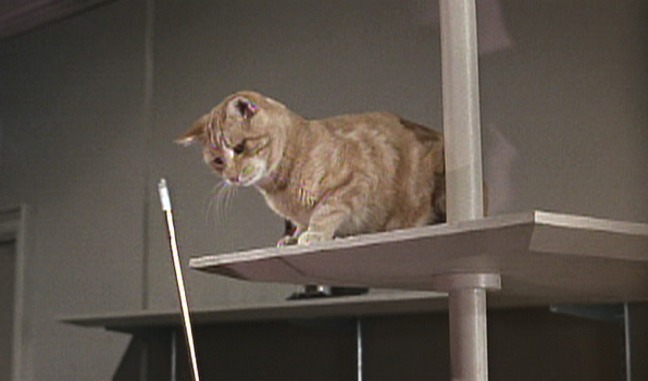 One of the most famous scenes of the evening came on soon after our arrival at 18:45: a cat swats at a cigarette at the start of the party scene in Breakfast at Tiffany's (1961). My partner and I both recognised it immediately, simultaneously, which was surprising since it seems to have only been from the cat and the music; Audrey Hepburn does not appear until a minute or two later. In this scene, a woman's hair is inadvertently ignited by a cigarette, then just as inadvertently put out, by someone spilling a drink on her, with only one guest noticing anything awry.
At 18:47, there's a montage scene of art galleries, Dennis Hopper in Basquiat (1996), Tom Cruise in Cocktail (1988), starting a fight with a sculptor, and a few others I didn't recognise. However there were fewer montages overall than I'd observed in December, when I went at dawn.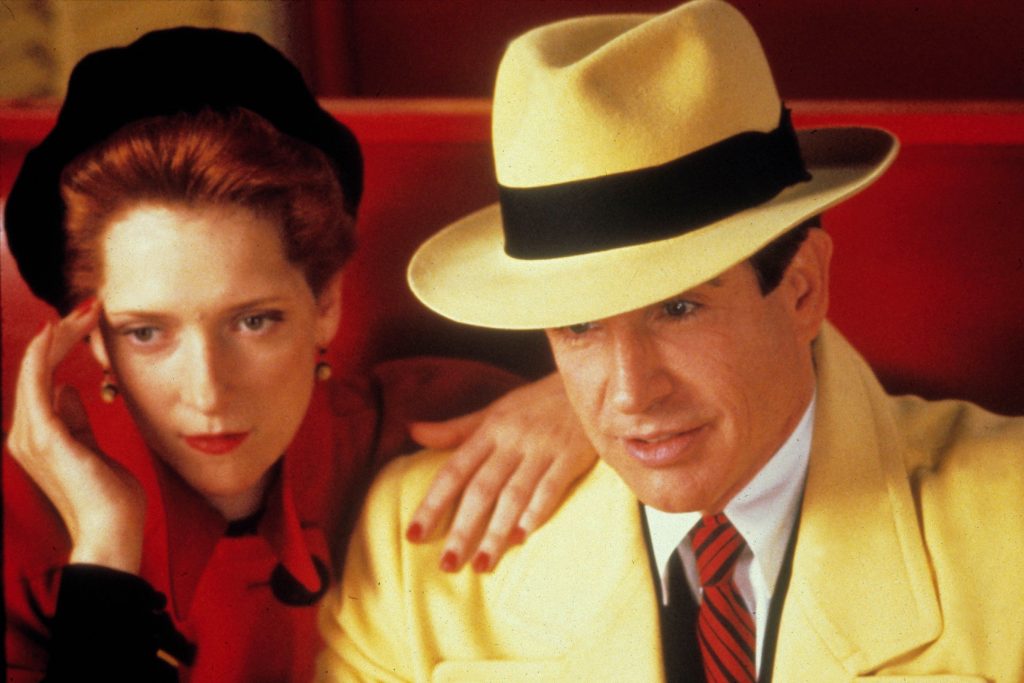 At 18:56, Warren Beatty appears as Dick Tracy (1990). I'd seen this as a kid, but this was (predictably) before I'd seen any other Beatty films, so it was a surprise. In retrospect it's a strange role for him. Certainly Splendor in the Grass (1961), Bonnie & Clyde (1967) McCabe & Mrs. Miller (1971), and Reds (1981, which, if you've not seen, you really must see), are films that are about as adult as anything imaginable. Strange, then, to see him in this PG movie from my childhood, alongside Pacino and, of all people, Madonna, and to realise, at long last, who this man playing Dick Tracy actually was.
At 18:57 appeared An Affair to Remember (1957), which I had forgotten. Although I had discussed it, on a hike in California, only a few weeks earlier, in connection with the many characters of Deborah Kerr, I didn't recognise it. I just wrote down Kerr/Grant. Kerr was with Cary in what looked like a hotel bathroom. Although it's iconic, I found the film quite overrated, and certainly absolutely nothing compared to the unbelievably brilliant A Night to Remember, about the Titanic, which came out, strangely, the next year (1958). Any connection there, besides the resonance of the title? As for Kerr, she makes an exceptional number of appearances in The Clock. Off the top of my head, I remember scenes from The Life and Death of Colonel Blimp (1943), Black Narcissus (1947), From Here to Eternity (1953), Bonjour Tristesse (1958), The Grass is Greener (1960), and The Innocents (1961), at least. She's been in a lot of amazing films, really.
At 18:58, a broad Yorkshire accent, in Kes (1969): "Listen, Billy, there's two bob here. Chuck? Get yerself some pop and some crisps. D'yer hear?" The scene was intensely familiar, but I would not have recognised it had the boy not been reading a book about birds. It's a sad film, in my mind associated with the British kitchen sink dramas like Look Back in Anger (1956) and Saturday Night and Sunday Morning (1960), though I suppose it's a bit later.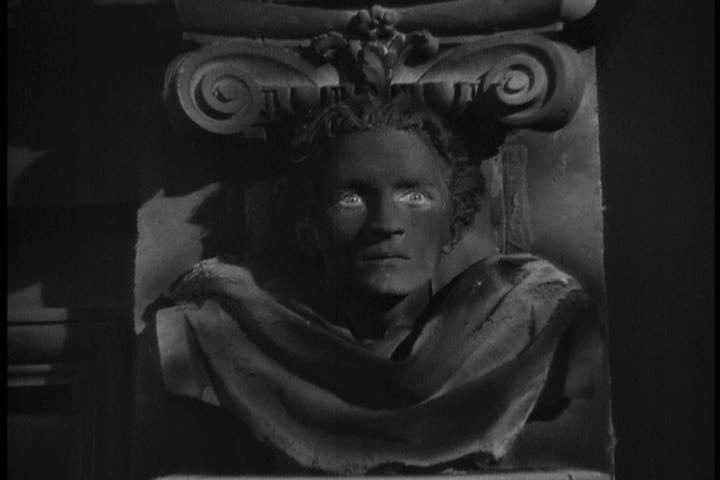 At 19:00, there are statue faces, eyes moving, in what could only be Jean Cocteau's beautiful Beauty and the Beast (1946). He uses staggeringly effective in-camera effects that, by virtue of their reality, look better than many special effects today. This and his later Orphée (1950) are must-see films.
At quarter past seven, there are two films from 1987: Michael Douglas plays a tape in his car as Glenn Close follows in Fatal Attraction. At 19:19, Steve Martin is saying, wrongly, that he shouldn't be any later than 10, in Planes, Trains and Automobiles.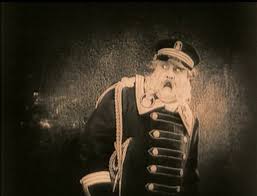 At 19:21 Der letzte Mann (The Last Laugh; 1924) shows Emil Jannings at a feast. This one I struggled to remember. I knew I'd seen it, I knew it was about a doorman at a grand hotel, and I knew the actor was a very famous German silent actor but I could not place it, and it disappeared as soon as it appeared. I had to look the film up afterwards. I don't remember it being particularly great.

At 19:25 it was a fight scene with Jim Carrey in The Mask (1994), followed by a film I'd seen oddly recently, which was Bill and Ted telling themselves: "Don't forget to wind your watch!" in Bill & Ted's Excellent Adventure (1989).

The first of many evening scenes from Eyes Wide Shut (1999) came on five minutes later. Nicole Kidman and Tom Cruise prepare to go to a party. Tom Cruise's long wander is featured throughout the evening and into the early morning.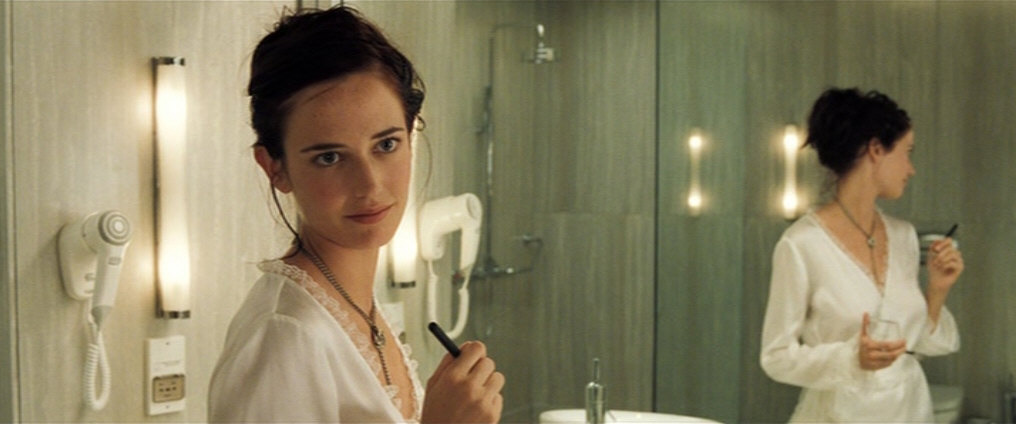 Eva Green and Daniel Craig have chosen each other's clothes at 19:34, in Casino Royale (2006). The Clock returns to the film several times over the next few hours.
At 19:35, a young Deborah Kerr reappears in colour with earrings. Probably a continuation of An Affair to Remember, followed by the Beatles, in what looked like A Hard Day's Night (1964). At 19:36, Joan Crawford makes the first of several appearances throughout the evening, followed by John Travolta in a dinner scene from Saturday Night Fever (1977). At 19:40, Katherine Hepburn sets the table in Adam's Rib (1949). This is followed, at 19:42, by a comically young-looking Nicolas Cage with Cher, in a film I've not seen, Moonstruck (1987). At 19:46, Jamie Lee Curtis and Arnold lying to each other in True Lies (1994).
At 19:48, the portrait of Laura (1944), in what will become an almost irritatingly long-running scene. Normally, the effect is the opposite, in that you wish a scene would go on a bit longer, or that The Clock would return to it, which it rarely does. Although Laura is an incredible film, it's over-featured. At 19:52 Mia Farrow falls asleep in Rosemary's Baby (1968).
Marty and Doc have their photo taken in Back to the Future III at 20:08. At 20:18, a black and white silent scene of a couple watching a film. I'm almost positive it's A Cottage on Dartmoor (1929), a rare instance of a decent British silent film. In this scene, a character who's been turned down for a date by his colleague across the theatre, the beginning of a violent jealousy that leads to catastrophe.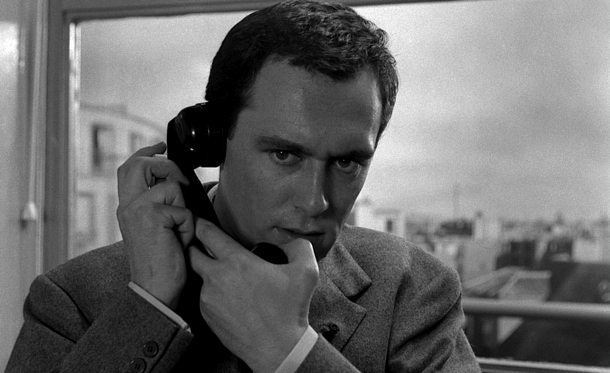 At 20:30, a man climbs dangerously onto the side of the building, in a stressful opening to an insanely stressful film: Ascenseur pour l'échafaud (1958), translated as Lift to the Scaffold in the UK and Elevator to the Gallows in the USA. It's hard to describe the plot of this film but its characters make an unrelated but escalating series of terrible decisions. It's worth a watch if you can take the suspense.
At 20:40, what looks like a colour version of Great Expectations, and the scene from the American remake of Funny Games where Michael Pitt bets that the family will be dead in 12 hours. I've not seen this American remake but I found the Austrian original is pretty unwatchable and reactionary.
At 20:52, in Pan's Labyrinth (2006), Captain Lopez asks menacingly about his child. At 20:53, it's Catherine Deneuve in Repulsion (1965). At 20:57, Jimmy Stewart, the professor in Rope (1948) makes an excuse to stay a bit longer. This film, shot in a single room, in which its main characters see whether they can conduct a party with their murdered classmate's corpse in a trunk, was shot in a single take (or near enough). Another film that did this more recently to rather incredible effect was the German film Victoria (2015). Strangely enough, I discussed Rope tonight, and its connection to a real-life 1924 murder.
At 21:22, in The Servant (1963): James Fox asks Dirk Bogarde for a drink. If you've not seen it, The Servant is a masterclass in manipulation, a fantastic look at codependence, something like Dostoevsky's The Double. It's worth watching alongside a film that has a dreamlike affinity with it, in which James Fox reverses roles. Rather than the host, he becomes the guest in Nicholas Roeg's unforgettable Performance (1970), playing a violent gangster who goes to stay with Mick Jagger in Notting Hill. It's violent and deeply weird, insane really, and well-worth a watch.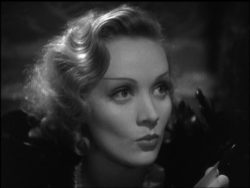 At 21:30, it's the proto-Bonnie & Clyde film They Live by Night (which I discussed a bit here), then a soft-focus Marlene Dietrich, in the Josef von Sternberg classic Shanghai Express (1932), followed by Clint Eastwood doing something emphatic as Dirty Harry (1971). Gunnar Björnstrand makes an appearance at 21:38. It looks like a Bergman film, possibly Shame (1968). Last week I saw the incredible documentary that's just come out, Bergman: A Year in a Life (1957), which has reinvigorated my interest in his work—he's far and away my favourite director. At 21:40, it's Get Carter, followed by several returns to the ubiquitous Laura (the wiki documents at least three in the next ten minutes).
At 21:55, we were rather unceremoniously asked to leave. They turned on the lights and showed us out, marking the final ticking of my Clock experience.
Denoument
It was quite a slog just to see three quarters of this staggeringly impressive work of editing and cinephilia, but I'm glad that I did it. Since I provided rather a lot of editorial in my first five episodes (listed at the top of this article) I'll spare you more here, except to say that this is an exceptional work of art, and you definitely ought to see it if it comes to a museum near you.
I'd also love to hear any comments or thoughts if you made it this far through my musings!